Spice up your breakfast
Make your Pink Ribbon Breakfast the event that no one wants to miss by adding some fun activities to boost your fundraising and create a buzz in the room. Consider adding one or more of these to your event.
A raffle
Everyone likes a flutter to support a good cause, so why not run a raffle? Get prizes donated and sell tickets in the lead up and at your breakfast.
An Auction
With a great MC and plenty of prizes, why not add an auction – they create a great buzz in the room as bidding gets high!
A baking competition
Ask your guests to bring a plate and vote for the winner – keeping costs down and starting conversations at your event.
Trivia
Add a short round of trivia to your breakfast. Who'll be crowned your breakfast trivia champion?
Fancy Dress
Ask your guest to come dressed in pink – or a splash of pink – and award a dress up queen for best dressed.
Childhood Games
Take your guests on a trip down memory lane with an egg and spoon race, three legged race or even musical chairs!

Incredible host competition
Raise $1,000 by 30 November 2017 and go in the draw for some incredible prizes.
Find out more
Tools for your successful event
Meet other pink ribbon breakfast hosts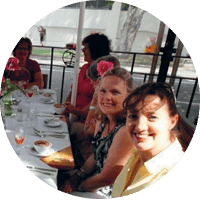 Joanne
Raised over $3,000 by inviting all her friends!
"This is my 9th year of holding a Pink Ribbon Breakfast. I got invited to a breakfast one year and decided to get involved and made the event what it is today. I see my event as a chance to catch up with friends whilst supporting a good cause."
Jenny
Raised over $4,000 by hosting her event at a catered venue.
"Holding an event already at a catered venue takes the stress of having to cook yourself if you are busy. Negotiate a good price with the venue so it allows you to fundraise more."
Kelly
Raised over $1,500 by using tools from NBCF.
"I hosted a breakfast in my workplace with raffles, games and merchandise in memory of my brother and sister who I lost to breast cancer. My colleagues and I shared our online page on Facebook and used the dollar handles provided by NBCF to remind people where their money was going!"
Port Hedland Well Women's Centre
Raised over $28,000 with their workplace by getting a local sponsor on board!
"Definitely approach local businesses to become a sponsor – always try and give them something in return, for example naming rights and advertising."